What happened to It's A Beautiful Day
Notice, this website is a mirror site that was created after a temperary shut down of the Fortunecity servers on June 9th, 2001..This website will likely not be updated, so please see the orginal website in the meantime..Thanks
Ever wonder what happened to It's A Beautiful Day?..Maybe the following will help answer that question..Check back often for new stuff and info.

Remember to use the back button to return to this page

This website is dedicated to Pattie Santos



About two years ago, I came across this article in a local legal newspaper..

Three days later, this response was printed in the same paper from the LaFlammes..



More information on the legal situation, court documents, Katz and more can be found by clicking on this link,
while current/past legislation before Congress dealing with the name issue can be found here

Join the Blue Ribbon Online Free Speech Campaign!




New!!!-May 19th, 2001, photo gallery supplied by Rosie Wagenet, wife of original guitarist for It's A Beautiful Day, Hal Wagenet,

and another, second photo gallery from Rosie just added
New-added-May 28, more photo's from Rosie, Fillmore, 6/12/1998
The Fourth installment of Rosies photo's from San Rafael, California, 1998
---
Hal and Rosie Wagenet would like to hear from you about anything related to It's A Beautiful Day or photo's or whatever.
---
New!!!-May 17th, a rare photo supplied by Hal Wagenet, from around 1971
This photo is part of two pages in a book titled "They Came To Play: Stories From The Early Days Of Rock", by Garret Mathews(McGregor Publishing)....This book is available through Amazon and then type in "Garret Mathews" in the search box, or by clicking here
This book is highly recommended reading and here is the first page of Hal Wagenets take on It's A Beautiful Day and here is the second page from this book

Here's another page that's easier to read on Hal's take on what happened to It's A Beautiful Day
---

New-March 14th, 2001....Bill Gregory, original guitarist on Choice Quality Stuff/Anytime and Live At Carnegie Hall(1971-1973) has recently gotten ahold of me through this website and we had a nice chat....Bill lives in New Orleans and has been playing around the world as a blues guitarist since IABD, but he misses his first love, rock & roll, and IABD...This is all brand new and hopefully I can get some more info for this fine guitarist, but for now, please check out www.allmusic.com and do a search for Bill Gregory

Also, check out a brand new sub section I created for Billy for updates and such

updated tour schedule(June 3, 2001)


---
More on David LaFlamme
---
click here for the poster section
---
The story behind the first album cover..George Hunter of the original Charlatans was the artist



The original oil painting of the first album cover!



Here's a photo I took a couple of weeks ago on August 6th,2000 of Hal and Rosie Wagenet standing in front of the house where Hal and Patty Santos lived back in the 60's...This house is on Potrero Hill in San Francisco...A second larger photo of Hal and Rosie

click here for recent concert reviews, and criticsm




A link to a Dutch Art film called "Stamping Ground" from 1970...More info can be found here
For the musicians out there, here's the lyrics and tablature to White Bird


This photo is very rare from 1970
It shows the first personnel changes in the band with the loss of the original keyboardist and singer songwriter, Linda LaFlamme(the first Linda LaFlamme)..This shows the new keyboardest, Fred Webb...This was taken from an old Goldmine article long out of print and was very hard to reproduce..I tried different scanning techniques until I settled on a very high resolution upload and then scaled it back to normal size for viewing..It takes a minute to download, but it's worth it, as it has a very good image of Patty Santos, who is at the bottom..

A group photo from 1968

See the Chaz reviews and a discography
and a black and white photo from the 80's by Pat Johnson

You can subscribe to the OneList/EGroups discussion group for updates on where they might be playing and what the band might call themselves..



Click to subscribe to ItsABeautifulDay



concert review from June of 98

Choice Quality Stuff album cover and the back cover

---

A rare CD cover
long time friend of It's A Beautiful Day, Barry Melton, in 1969

Here's another great IABD site that has some cool graphics

Here's a very cool website about It's A Beautiful Day at the Bath Festival/1970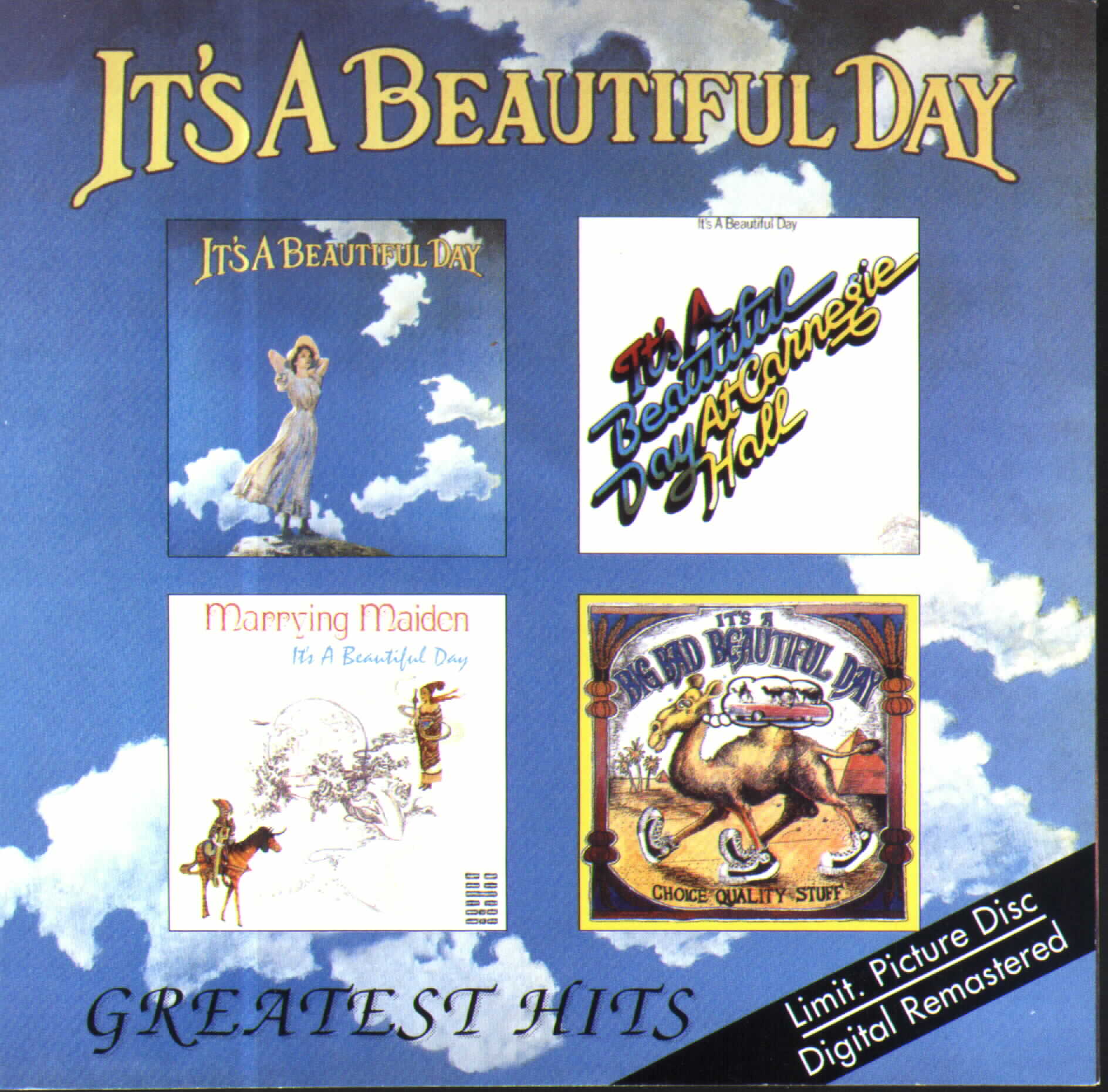 Here's the inside sleeve from this CD